Before we get started with our newest project, I think it would be a good idea to make note of our goals and aspirations for the next 30 days. Here are some questions to consider.
What would you like to accomplish?
How will you know this project was a success?
How are your finances right now today?
Where would you like them to be at the end of the 30 days?
Is there a project or a goal that you'd like to complete?
What does prosperity mean to you?
I'd like to encourage every one to post answers to these questions. If you take the time to comment here today, it will be easier to log your success at the end of the 30 days of our "quickie" prosperity techniques. You can be as vague or as specific as you'd like.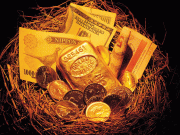 As promised, here's our first desktop wallpaper. Click on the image to enlarge it, then right click and save to your computer. As always, if you have any problems acquiring the image, let me know, and I'll do my best to help.