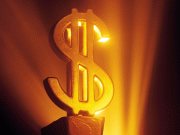 Based on the feedback thus far, this project is one of our favorites. This is what we had to say about it:

Can I just say... this was awesome.
This was a lot of fun! Quick, simple, positive.
I imagine that I feel slightly better about my finances because of keeping a good attitude with daily exercises. Like keeping your feet on the path going forward instead of running around in one spot.
I learned through this project that if you have negative feelings about money or debt or financial worries of any kind, sometimes (to keep your focus positive), it's helpful to have tools in place for low moments. Or have a plan to keep open and hopeful. Just saying once, "I want to improve my situation" is not enough, for me anyway. Everyday stress creeps in and can bring back the low feeling, so being prepared in advance would be helpful.
I found myself dreaming about all the things I want and deserve, and often taking deep breaths of positive, life giving abundance!
I was able to take two weeks off work AND the Internet so that I could go to Texas and visit my family. Amazingly, I was able to rent a car, pay for gas, take a week off work unpaid, get the monthly bills paid, and not only that, but I have new art, a new meditation practice, a better daily routine, and I got another check from Google. Yes, this was a great project for me too.
I will buy this book (here's the link). I will recommend it to friends. My favorites I will put on index cards to keep handy in a "money panic moment".
Growing happier every month!
I'd say my finances improved, and my life changed in a significant way for the better in just about every area.
I would definitely recommend this particular "program."
Our favorite exercises were:
If anyone else has something to add, I'll be happy to incorporate your comments into this post. Remember, your feedback, your comments and experiences (positive and/or negative) are welcomed by and helpful to everyone who visits our site.